If you've been freelancing for some time and are looking to turn your work into a small business, then this blog is for you. Being an entrepreneur isn't easy but it can be incredibly fulfilling. So let's get started with the steps you need to take to make your dreams come true.
Create a Professional Website
Having an online presence is essential when turning your freelancing work into a small business. A professional website will help potential customers find you and learn more about what you offer, as well as provide contact information so they can easily contact you.
Make sure to include detailed descriptions of all products/services, along with pricing information and images/videos showing customers what they can expect from working with you.
Obtain Necessary Licenses and Permits
Before turning your freelancing work into a business, it is important to obtain any necessary licenses or permits that may be required for your business to run legally. This includes registering for taxes, obtaining a sales tax permit if applicable, getting liability insurance, setting up payroll, and more.
Do research on the requirements in your area and make sure all of the paperwork is taken care of before launching your business.
Take Advantage of Useful Technology
Technology has made running small businesses easier than ever with programs such as invoicing software, customer relationship management (CRM) systems, accounting software, and more specifically designed for small business owners.
Do your research to find out which programs would be best for your needs and make the investment. Taking advantage of these tools will help save time and money while running day-to-day operations without having to hire additional staff members or outsource tasks.
Secure Business Insurance
Business insurance provides important coverage that can protect you and your small business from potential financial risks and damages. Depending on the type of business you have, you may need to consider different types of insurance, such as general liability insurance, professional liability insurance, property insurance, or workers' compensation.
Business insurance gives peace of mind that your business is protected in the event of unforeseen circumstances like accidents, lawsuits, or property damage claims.
It is crucial to budget for business insurance as part of your overall business expenses and thoroughly research and compare insurance packages to ensure that you and your business are adequately covered.
Make a Business Plan
Creating a comprehensive business plan is key when turning freelancing work into your small business venture.
Take time to develop strategies that outline how you plan on achieving success within set goals; consider budgeting plans; determine who will be responsible for what tasks; create marketing campaigns; establish policies and procedures; build customer service plans, etc.
This type of planning will give direction for future decisions while helping ensure overall success.
Be Your Best Boss
Being your own best boss when starting your own small business is one of the most important steps for success. It's essential to hold yourself accountable, be organized, and plan ahead. Set clear objectives and expectations for both short-term and long-term goals.
Louise Jenner, Business/Career Coach explains, "Be the best boss you ever had! You may be leaving regular employment for a variety of reasons but many people leave their managers rather than their jobs. So, don't make the mistake of going self-employed and ending up working more hours than ever for less money than you used to earn in employment! That makes you a worse boss than the one you left!
Think about what you want from your freelance life. Set your goals and focus on how you can achieve them without burning yourself out in the process. Your coach can support you with this and help you and your business to thrive."
Re-evaluate your goals periodically as you progress and revise them when necessary. Create a work schedule and stick to it – make sure you're taking regular breaks and vacations to stay sane.
Cultivate an understanding environment for yourself: celebrate successes, recognize hard work, and acknowledge your mistakes.
Treat yourself like any other employee to make the most out of every day and increase efficiency. Most importantly, make sure that you're enjoying the process so that your passion continues to drive you forward.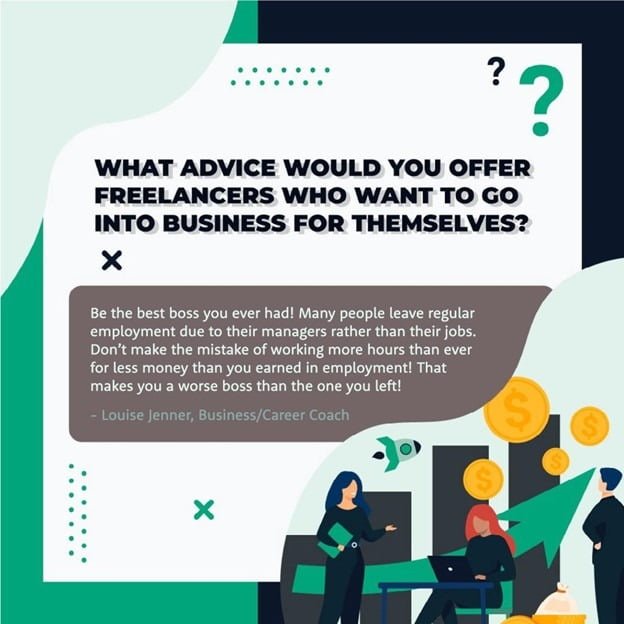 Make Your Dream Business a Reality
Turning freelancing into a successful small business is challenging, but it also comes with many rewards.
When embarking upon this journey, follow these steps: create a professional website; obtain necessary licenses and permits; invest in helpful technology; secure proper insurance coverage; make a comprehensive business plan; and be the best boss you can be.
With these strategies, your success rate should increase significantly.
Are you looking for the right coach to help you make your new business a reality?
Contact The Dream Job Coach Louise Jenner to get started!
This article was written by guest author, Kiarra Huettes.
Kiarra is the founder of The Freelance Resource. She is also a digital nomad who inspires others to find their path in life. After spending years working in the corporate world, Kiarra realised that she wanted more out of life. She left her 9-5 job and took a risk as a freelancer.
As a Digital Creative Director, she has worked with many clients from across the globe, helping them market their businesses in the digital world.