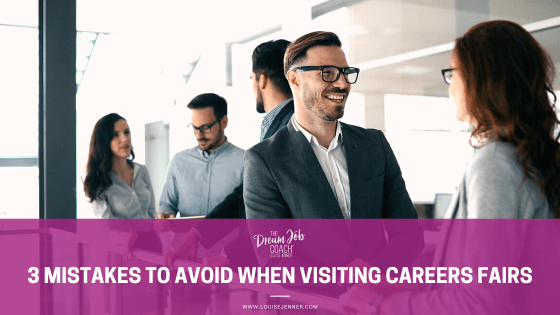 Careers Fairs are a great way to research your dream employers and, in some cases, you are able to meet them in person for the first time.  First impressions count, we all know that, so it's startling to me when I see candidates making these mistakes when they are out and about networking at these events.
If you read this and recognise that you have made these mistakes in the past, take heart!  Maybe you were at your lowest ebb when you were looking for a new job, maybe you were having an off day.  Let's not repeat the same mistakes again though!
Mistake 1 – Dressing Down for Careers Fairs
So many candidates turn up to careers fairs in casual clothes (and I'm not talking "smart casual" here!) forgetting that they might have an opportunity for an impromptu interview there and then.
Smart candidates always make a good impression. I remember guys coming for delivery driver jobs who took the trouble to put on a shirt and tie. It impressed me and my "tough as old boots" transport manager! So, shine those shoes, iron your shirt and dry-clean your suit. You never know who you might meet. 
Mistake 2 – Not taking your CV to Careers Fairs
You turn up at the careers fair looking the part and then when asked for your CV by your dream employer, you mumble something about the printer needing ink and promise to email it across as soon as you get home.
The next person who speaks to the employer has a beautifully printed CV in a matching envelope with a carefully crafted cover letter. Who do you think appears more efficient to the employer?
Other strengths that are being demonstrated by your competitor are Organisation, Research, Planning, Tenacity and Attention To Detail.
Mistake 3 – No Research before Careers Fairs
You might think that going to the careers fair is for research purposes only but actually, your research should have already started. Too many candidates rock up to a careers fair and their only plan is to wander about and see what's on offer. The impression they give to the employers looking on is that they are a bit lost and lacking direction.
The savvy candidate will have contacted the organisers, in advance, to find out which employers will be exhibiting. They will have decided which of these fit their "dream employer" profile and checked out their websites and social media in advance.
They may have even reached out to the appropriate person on LinkedIn to let them know that they will be attending the fair. They may have already secured a coffee meeting with their dream employer before they even get there.
You Get Out What You Put In
Like so much in life, you'll get out what you put in. If you make the effort to make a careers fair work for you, you're more likely to find the experience satisfying. I can't promise that you'll find your dream job by avoiding these mistakes but I can assure you that your chances of doing so will skyrocket.
If you have any other mistakes to avoid or top tips for attending careers or jobs fairs, please leave them in the comments below.
Louise Jenner is known as The Dream Job Coach.
Based in South Devon, Louise provides career and business coaching online to clients across the UK.
You can get help with CV writing, cover letters and interview preparation to help you progress in your career.
Learn more and book your free Clarity Session here.
Copyright: Louise Jenner, 2023